01.12.2020
Giving surgeons the freedom to operate!
← Back to press releases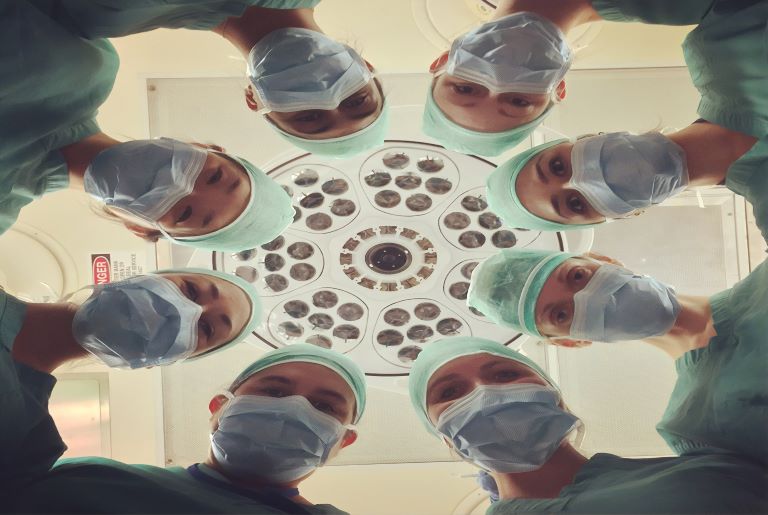 Biomendex is our third EIC Accelerator Champion that we cover in our blog series of: "What does it take to become an EIC Accelerator Champion".

So how did they do when benchmarked against our 6 key things to consider when raising funds?

Biomendex met all the six criteria and were awarded €2.2 million in non-dillutive grant funding to finalize & clinically validate their disruptive bone graft substitute Adaptos. That closely mimics human's bone, without any of the bone sourcing drawbacks.

In MedTech, where innovation impacts patients' lives directly, Biomendex seeks to redefine what the gold standard for treating bone voids is!
Why Biomendex does what they do?
When Dr. Kaarlo Paakinaho, the CEO & Co-Founder of Biomendex, was working in University of Tampere, he noticed that surgeons who treat bone were working with limited options when it came to sourcing bone.
They could take the bone from another part of the patient's body… but face the trade-off between sourcing a suitable bone at the cost of a disability. Oddly, it is considered as the gold standard!
They could take the bone from a bone bank… but maintaining bone banks is very expensive & the bone has low regeneration capability.
Or they could use a synthetic bone product… but they have proven to be difficult to use, while providing limited bone growth. However, even with the drawbacks, traditional bone graft substitutes were deemed as the best alternative to own bone so far.
But Kaarlo was not satisfied, so he spent years researching on how to change the way bone voids are treated. In his journey, he onboarded several others, who felt that the current situation was very sub-optimal… leading to the birth of Biomendex and the Adaptos bone graft substitute.
Changing the way bone voids are treated is what connects the founders & leaders of Biomendex.
How Biomendex solves existing problems & disrupts the market?
Going beyond sourcing the patients' own bone, opens up countless of possibilities to treat bone voids, without any of the conventional drawbacks.
This makes Adaptos, the bone graft substitute, revolutionary!
It is the only bone graft substitute that mimics bone by being resilient and bioactive. This eliminates the current material restriction plaguing the 4 million annual operations that require bone grafts.
Using Adaptos, surgeons are able to achieve better surgical outcomes, reduce operational risks, cut operation time and reduce costs.
What is the breakthrough innovation behind Biomendex?
The highly patented Adaptos bone graft is very similar to other substitutes at first glance.
But it is easy to shape, cut & squeeze into place. It also induces strong bone formation, while mimicking bone by being resilient and bioactive. This makes the Adaptos bone graft substitute the only substitute directly comparable to autografts.
Sometimes, the beauty lies in the simplicity of the solution.
Did Biomendex really try to raise funds prior to EIC funding?
Oh yes, they did!
The R&D behind the innovation already began in 2008 in University of Tampere. The initial research was done predominantly through grants. In 2018 Biomendex was founded, as the commercial opportunity was validated and clinical trials had been launched.
But they also got a lot of NO-s for their disruptive technology, when trying to bring Adaptos method to the wider market.
Why?
Because changing the way we treat bone voids is simply not attractive enough for investors prior to large-scale clinical validation… it is just too risky and slow for private investments.
Now, with the grant funding financing the large-scale clinical trials, they no longer have this barrier!
Did Biomendex have a clear value proposal?
Their value proposal was perfect.
Bone graft substitute that mimics the human's bone, eliminating the need of additional surgeries like sourcing the bone!
There is no other substitute to treat bone voids so simply, fast and cost-efficiently.
It also does not require any large-scale investments like maintaining a bone bank.
Simply, it is a plug-and-play solution!
How is Biomendex high risk-reward business scalable?
The low cost, but high impact Adaptos allows surgeons and patients to benefit from a bone graft substitute with all of the benefits of your own bone. Thus, choosing Adaptos over any other bone graft substitute is a cost-efficient and effective solution for all parties involved.

Putting it all together!
Ultimately, Biomendex met all the criteria that EIC Accelerator (then SME Instrument) seeks and were awarded non-dilutive grant funding.
This is why they became a champion!


When reading about Biomendex changing the way we treat bone voids, did you see why they were a Champion before they officially became one?
Did you notice any similarities between how YOU operate and innovate?
If yes, then reach out to us!
← Back to press releases